Articles published by Dr. Christina Puchalski 
An early pioneer in the field of spirituality and health, Dr. Puchalski has written extensively on the institute's findings over the past two decades. Articles are available for reference, but please attribute authorship to Dr. Puchalski.
---
Talks and Presentations About GWish and Other Contributions by Dr. Christina Puchalski
Speaking, writing, and collaborating, please enjoy media that reflect Dr. Puchalski's many engagements—both national and international.
GWish YouTube Talks & Presentations
GWish Vimeo Talks & Presentations
Watching Video: A Conversation with Christina M. Puchalski, MD - Director, GW Institute for Spirituality and Health
---
Spiritual Assessment Tool Developed by Dr. Christina Puchalski and Colleagues 
Based on years of research and fieldwork, the FICA Spiritual History Assessment Tool offers a step-by-step guide to help you gather information about a patient's spiritual history and preferences. The FICA tool can be used during new-patient visits, annual exams, or at follow-up visits. Quick-reference FICA cards are also available for purchase. 
We also encourage practitioners AND patients to use the FICA Assessment Tool to evaluate where they are in their own spiritual understanding and well-being. 
Learn More About the FICA Tool
---
GWish Spiritual Assessment in Clinical Practice Course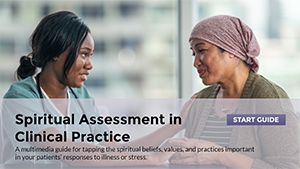 Please enjoy this complimentary short-course designed to help you understand the spiritual beliefs, values, and practices important in your patients' responses to illness or stress.
---
Books Co-Authored by Dr. Christina Puchalski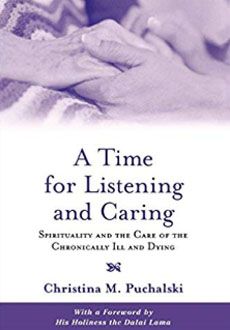 A Time for Listening and Caring (Oxford University Press)
Spirituality and the Care of the Chronically Ill and Dying
Christina M. Puchalski, MD, foreword by His Holiness the Dalai Lama and contributions from interfaith authors
A Time for Listening and Caring explores current thinking on how spiritual care can be integrated into traditional caregiving: 
Part one: Aspects of spirituality, such as presence, ethics, and relationships. 
Part two: Specific religious and theological traditions. 
Part three: Practical applications and tools, including storytelling, psychotherapy, dance, music, and the arts. 
Part four: Patient stories and reflections. 
ORDER A TIME FOR LISTENING AND CARING
This compilation of seminal work is a thoughtful, informative, and practical guide for anyone involved in caring for the seriously and chronically ill or dying. 
---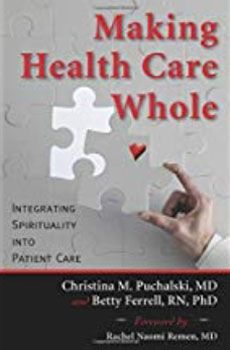 Making Health Care Whole (Templeton Press) 
Christina M. Puchalski, MD and Betty Ferrell, PhD
Serving as both a scholarly review of the field of spirituality and health and a practical resource with specific recommendations to improve spiritual care in clinical practice, Making Health Care Whole benefits hospices, palliative care programs in hospitals, and homecare services. It is also a valuable addition to the curriculum at seminaries, schools of theology, and medical/nursing schools.
ORDER MAKING HEALTH CARE WHOLE
---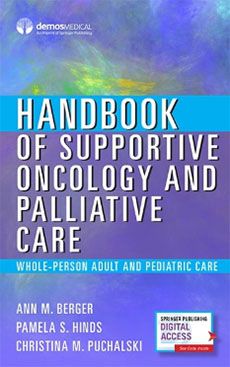 Handbook of Supportive Oncology 
and Palliative Care (Springer Publishing)
Whole Person Adult and Pediatric Care
Ann M. Berger, Pamela S. Hinds, Christina M. Puchalski
Handbook of Supportive Oncology and Palliative Care is a practical guide to providing care to adult and pediatric cancer patients who are experiencing stressors due to cancer diagnosis, cancer treatment, and comorbid conditions.
This accessible reference provides the art and science behind the whole-person and family approach to care by delivering the best practices for relieving a cancer patient's symptoms across physical, psychosocial, and spiritual dimensions.
ORDER HANDBOOK OF SUPPORTIVE ONCOLOGY
---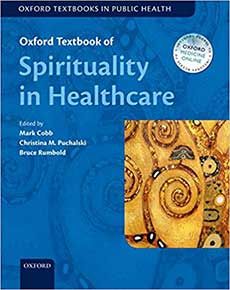 Spirituality in Healthcare (Oxford University Press)
Mark Cobb, Christina M. Puchalski, Bruce Rumbold
Health care providers are challenged to respond to the ways spirituality is experienced and expressed in illness, suffering, healing, and loss. Spirituality in Healthcare is an authoritative reference on the subject providing unequalled coverage, critical depth, and an integrated source of key topics.