Spirituality and Health Awareness Begins with the Student
To achieve our mission of integrating spirituality into health care systems worldwide, we recognize the need to create a strong and consistent presence in medical, nursing, and other health care schools. As a result, GWish has developed programs that are now deployed by faculty, students, residents, fellows, and other health care practitioners around the world.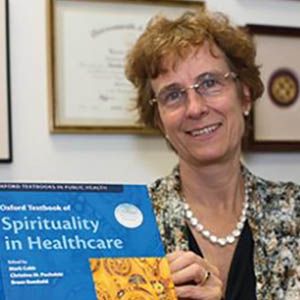 Spirituality and Health Curricula 
In 1992, Dr. Puchalski developed the first elective on the subject of spirituality and health. Within five years, the expanded course had become required curricula in GW's School of Medicine & Health Sciences. Subsequently, GWish launched a grant program to help other medical schools develop their own curricula, the result of which increased the number of medical schools teaching spirituality and health from 3% to 80% nationally.
Learn More About Spirituality and Healthcare Curricula
---
Establishing National Competencies
In order to impact health care systems on a large scale, we continually assess our medical, nursing, and other health care school programs to make sure they are working and sustainable. Additionally, we use our accumulated findings to create competencies and offer guidelines that encourage consistent and replicable implementation throughout all types of health care systems.
Learn More About National Competencies
---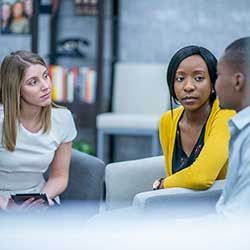 GWish-Templeton Reflection Rounds 
Based on the GWish-developed competency of compassionate presence, GWish-Templeton Reflection Rounds offers a small, facilitated discussion model that provides a safe place for students and residents to share. In this environment, participants learn how to 'see' and 'hear' their patients as individuals, which brings empathy and compassion to their medical practice. 
In Reflection Rounds facilitation training, school faculty and health care practice leaders learn how to conduct thoughtful inquiry into how medical, nursing, psychiatric—all types of health care students and residents—feel about their day-to-day interactions with patients. By experiencing this type of deep listening in small groups, participants learn to extend the same empathetic listening, compassion, and understanding to the patients in their care.
Learn More About Reflection Rounds
---
Practice and Roleplaying for Residents 
Delivering bad news, dealing with emotional distress, and having heartfelt conversations with patients isn't always easy. Discussions can be layered, unclear, and fraught with high anxiety and emotion. To address this, in collaboration with Dr. Benjamin Blatt, Director of the GW CLASS Center, GWish developed a program known as CREATE (Cross Residency Exercise for ACGME Training and Evaluation). 
CREATE uses simulated patients and role-playing to give residents practice in dealing with end-of-life care, breaking bad news, and other challenging communication issues. 
---
The GWish Spirituality and Medicine Curricular and Residency Training Program Awards
Funded by The John Templeton Foundation, GWish has given financial awards to medical schools and residency training programs for the development of programs in spirituality and medicine.