Healthcare Professional Development: Reflection Rounds
To encourage health care professionals to reflect on patient care and how it affects their emotional, spiritual, and day-to-day wellbeing, GWish and the John Templeton Foundation combined resources to develop a small-group facilitation model that offers practitioners a safe place to share. 
Piloted in 18 medical schools, GWish Templeton Reflection Rounds were met with enthusiasm by students and faculty alike. Now fully integrated into GW's medical school curriculum, GWish teaches the Reflection Rounds facilitation technique to medical/nursing school faculty, other health care field trainers, medical center and private practice providers, chaplains and spiritual directors. 
Find out how you can learn the Reflection Rounds facilitation technique to support the wellbeing of your colleagues and staff.
"Reflection Rounds encourage practitioners to look more deeply into how their practice aligns with their desire to serve—and how they feel about it. Without this type of reflection, providers run the risk of burning out, eventually losing sight of their calling."
—GWish  Founder and Executive Director Christina Puchalski, MD, FACP, FAAHPM
REFLECTION ROUNDS ARE ON HOLD DUE TO COVID
Healthcare Professional Development: Reflection Rounds Facilitation Training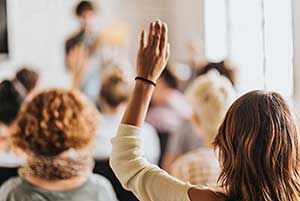 More 'listening circle' than support group, Reflection Rounds facilitators learn to conduct deep listening and inquiry into how medical students and health care professionals are coping with the demands of their work. Studies have shown reduced depression and burnout—and increased empathy—with this approach, and participants report they are more able to stay connected to what matters most to their patients.
Mentors benefit, too. Experienced facilitators describe a rekindling of joy and meaning in their own practice by offering these small group discussions. If you are in a position of leadership in your organization—medical/nursing school faculty, physician, nurse, chaplain, or any type of health care provider—don't miss our next Reflection Rounds Facilitation Training.
To better incorporate a GWISH-Templeton Reflection Rounds program into your own organization, we highly recommend you attend the Reflection Rounds Facilitator Training program together with an area chaplain or spiritual director. This type of partnership will help you establish more consistent—and impactful—Reflection Rounds.
If you are interested in hosting a Reflection Rounds or participating in our next Reflection rounds facilitator training, please contact Cherron Gardner-Thomas at cgthomas2@email.gwu.edu.