Interprofessional Spiritual Care Education Curriculum [ISPEC©] (VIRTUAL)
October 26-27, 2023
UPDATE: The application deadline has been extended to October 18th, due to the inquiries we've received since our ISPEC© informational webinar.
The ISPEC© training course provides a unique opportunity for clinicians and chaplain pairs from the same health setting to learn how to integrate spiritual care into patient care throughout their organization.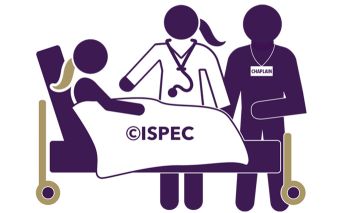 For Clinicians: Learn how to skillfully integrate spiritual care into your clinical practice and how to teach your colleagues basic concepts so they can offer this type of care, too.
For Chaplains: Work together with your clinician partner to teach and bring spiritual care to multiple touchpoints across your organization, so the ability to recognize and address spiritual distress becomes a standard part of patient care.
The ISPEC© course is designed around the Generalist Specialist model of professional spiritual care, in which clinicians (generalists) collaborate with spiritual care specialists (e.g., board-certified chaplains). The ability to integrate spiritual care into health settings as a standard part of whole person care necessarily involves a collaborative effort by clinicians and chaplains working together to provide spiritual care to patients and families.
If you feel that addressing spiritual health is an important part of treating the patients you serve, join us at ISPEC© 2023. One clinician, one chaplain at a time, we can impact organizations and healthcare systems to offer this deeply beneficial care to the patients who need it most.
We are grateful to The John Templeton Foundation for their generous support of ISPEC 2023 and our ability to offer significantly reduced course fees. Valued at over $500, the October 2023 ISPEC is being offered at $260 per person.
2023 ISPEC will be held via Zoom on October 26-27.
Application deadline October 18th.
Frequently Asked Questions (FAQs)
What is Covered in the ISPEC© Course?

What is the Schedule for the ISPEC© Course?

Who Should Apply?

Who is on the ISPEC© FACULTY?

What is Included in My Registration?

What is My Commitment as a Participant?

Will I Get CE Credits for Completing the ISPEC© Course?

Fees

Are Scholarships Available?
Questions? Please contact Cherron Gardner Thomas at gwish@gwu.edu
©Copyright GWish and The George Washington University, 2018, updated 2022. All rights reserved. No excerpts, translations, or adaptations may be created without written permission.