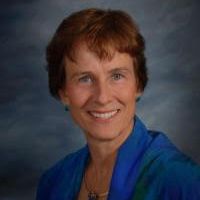 Christina Puchalski, MD '94, RESD '97, founding director of the GW Institute for Spirituality and Health (GWish), and colleagues at GW, received international attention for their innovative training for professionals in the often-neglected area of spiritual care.  
In an article published in the Journal of Palliative Medicine, Puchalski shared the initial experience from the training, which is gaining attention throughout the world as institutions attempt to improve spiritual care as a commitment to culturally respectful care in diverse communities.   
The paper's authors evaluated ISPEC through needs assessment surveys and course evaluation data. The curriculum is built from a pilot course GWISH held at the Washington, D.C., VA Medical Center. 
"ISPEC is a novel approach in training interdisciplinary teams of health care workers, and our evaluation of the program shows that it is successful in improving spiritual care for patients and necessary in helping providers feel confident in their ability to attend to patients' and families' spiritual needs," said Puchalski.
According to post-course evaluations from the ISPEC training, participants noted that they made significant progress in achieving their goals for implementing spiritual care in their clinical settings over the course of a year. Clinicians also said the training helped them engage with chaplains more readily, and chaplains felt they could function more effectively as spiritual care experts. 
ISPEC includes three components, the first of which is the Online Training Program, focused on knowledge-building using case-based learning, virtual presentations, and reading materials. The online training addresses topics such as spiritual distress, compassionate presence, communication about spiritual issues and spiritual assessment, whole person assessment and treatment plan, and ethics and professional development.
Another component is a two-day Train-the-Trainer Program that centers on leadership skills and effecting cultural change, and features assessment and treatment planning. In addition, ISPEC for Institutions offers evidence-based training within a single institution to equip clinicians and chaplains with leadership skills to improve implementation of spiritual care. 
In addition to participants from the U.S., more than 16 other countries were represented at the 2018 and subsequent ISPEC trainings. 
While there are other spiritual care curricular programs around the country, according to the paper, ISPEC is unique because it not only provides clinician-chaplain pairs with skills training, but also helps them learn to be leaders in their own workplaces when it comes to interprofessional spiritual care. The next ISPEC course will be offered from July 7-9, 2020, at GW. 
The article, titled "Interprofessional Spiritual Care Education Curriculum: A Milestone Toward the Provision of Spiritual Care," is available at www.ncbi.nlm.nih.gov/pubmed/31895621.