GWish Founder and Executive Director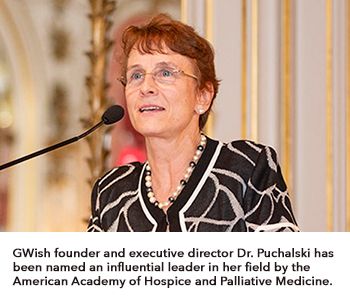 Christina Puchalski, MD, MS, FACP, FAAHPM, is an international leader in the movement to integrate spirituality into health care. As founder and director of the George Washington Institute for Spirituality & Health (GWish), Dr. Puchalski's work has been featured in print, on television, and in numerous scholarly journals. She is the author of Time for Listening and Caring: Spirituality and the Care of the Seriously Ill and Dying (Oxford University Press) and co-author with Dr. Betty Ferrell of Making Healthcare Whole (Templeton Press). 
Dr. Puchalski is a professor at GW's medical school and is board certified in palliative care and internal medicine. As a Medical Hospice Director in Washington, DC, she directs an interdisciplinary outpatient supportive and palliative clinic.
Read Articles by Dr. Puchalski  Request a Speaking Engagement
Watch a short documentary about Dr. Christina Puchalski and how GWish got started. 
Video sponsored by Religion Unplugged and produced by Kim Lawton Media, LLC.